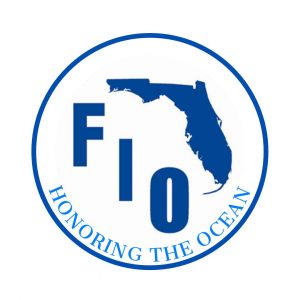 Sponsored by the Florida Institute of Oceanography (FIO), Honoring the Ocean is a new interdisciplinary, multi-institutional course for students who are getting an adventure of a lifetime.  
Honoring the Ocean is a new interdisciplinary experiential program of the Honors Colleges of five institutions of the State University System (SUS) and sponsored by the Florida Institute of Oceanography (FIO). Over the course of the spring semester, 20 students, widely considered among the best and brightest of their schools, have joined with professors and FIO, a statewide institute supporting ocean research and education, to explore humankind's interaction with the ocean.
A set of virtual lectures taught by Honors faculty from Florida International University (FIU), University of Central Florida (UCF), University of Florida (UF), University of North Florida (UNF), University of South Florida (USF) prepared students for an adventure at sea onboard FIO's research vessels. The program targeted students from a very broad spectrum of backgrounds; no experience in marine science was required. The program was intentionally designed to foster collaboration among students and faculty from different fields. By working together, students are exploring interdisciplinary approaches to addressing critical issues facing Florida's coastlines and oceans.
"This program encapsulates what Honors education is all about: interdisciplinary inquiry, experiential activities, and the creation of new knowledge through students' own projects. That they get the chance to learn from faculty and interact with their peers at five Florida SUS Honors Colleges and FIO staff is what makes it an exceptional opportunity," said Dr. Padmini Coopamah Waldron, Director of Honors Research at UCF.
The first at sea experience for the students took place aboard FIO's Research Vessel (R/V) Weatherbird II out of St. Petersburg for a busy weekend of field-based learning endeavors focused on the relationship between humans and the Gulf of Mexico. A second cohort of students and instructors departed from FIO's Keys Marine Laboratory on the R/V W.T. Hogarth to explore Keys-based waters.
The topics covered are not typical for oceanography or marine biology. Ranging from the importance of 'left handed' Lightning Whelks to the earliest native Floridians to the role fishing plays in political structures and conflict to poetry, visual arts and journalism, these students are going to see the ocean around them with a sense of appreciation. The experience in the complex ecosystem that is the Gulf of Mexico can also be an asset to students seeking opportunities to work with government agencies, academic institutions, and nonprofit organizations especially in the state of Florida and its $74 billion Blue Economy. 
"The most important lessons of this 'real-life experience' were that the power of the ocean, the changing states of the weather, and the physics and physicality of boarding, living, and working in and on a working research vessel in the Atlantic Ocean is humbling and awe-inspiring, but results in an understanding of the value of safety rules and the captain's authority, awareness of space and resources, an equity and humanity and need for each other, and the variety of sources and methodologies of gaining knowledge and disseminating knowledge. The Arts and Sciences were seamlessly joined together," said FIU Professor Gretchen Scharnagl. 
The course was imagined through a conversation between FIO Director, Dr. Monty Graham, and USF's Dean of the Judy Genshaft Honor's College, Dr. Charles Adams. USF is FIO's Host Institution and played a key role in bringing the other SUS universities to the table to try something entirely new and it has worked beautifully.
"In Florida, the ocean touches all of our lives. Every penny of Florida's $1.3 trillion economy either benefits from or is vulnerable to the ocean. All of Florida's students should explore and understand their relationship with the sea," said Graham.
The Florida Institute of Oceanography consists of 32 members including state universities. Established by the Florida Board of Governors and hosted by the University of South Florida, FIO provides support and shares marine science resources between the state's universities and private, non-profit marine research entities. FIO operates the R/V Weatherbird II, R/V Hogarth and the Keys Marine Laboratory (KML) in Layton, Florida.
Check out the digital archive for students from "Honoring the Ocean: Sustainability and the Sea": A partnership between State University System of Florida universities and the Florida Institute of Oceanography