FIO and its Members Support Vital Science Following Hurricane Ian
ST. PETERSBURG, Fla. – Oct. 18, 2022 – The Florida Institute of Oceanography (FIO) is deploying assets to support the scientific needs of impacted organizations in the wake of Hurricane Ian's devastation. FIO's research vessel, the R/V Hogarth, will depart for the Fort Myers region Tuesday, Oct. 18, to support The Water School at Florida Gulf Coast University (FGCU) and Sanibel-Captiva Conservation Foundation (SCCF) with the recovery of essential scientific equipment and to collect oceanographic data along the storm-impacted coastline.
"Our main research station, Vester Field Station at Bonita Springs, is damaged [due to storm surge], and it is likely we won't be able to use it until summer 2023. The support from FIO to recover our currently deployed instruments and post-hurricane sample collection will be greatly helpful," said Dr. Puspa Adhikari, assistant professor in The Water School at FGCU.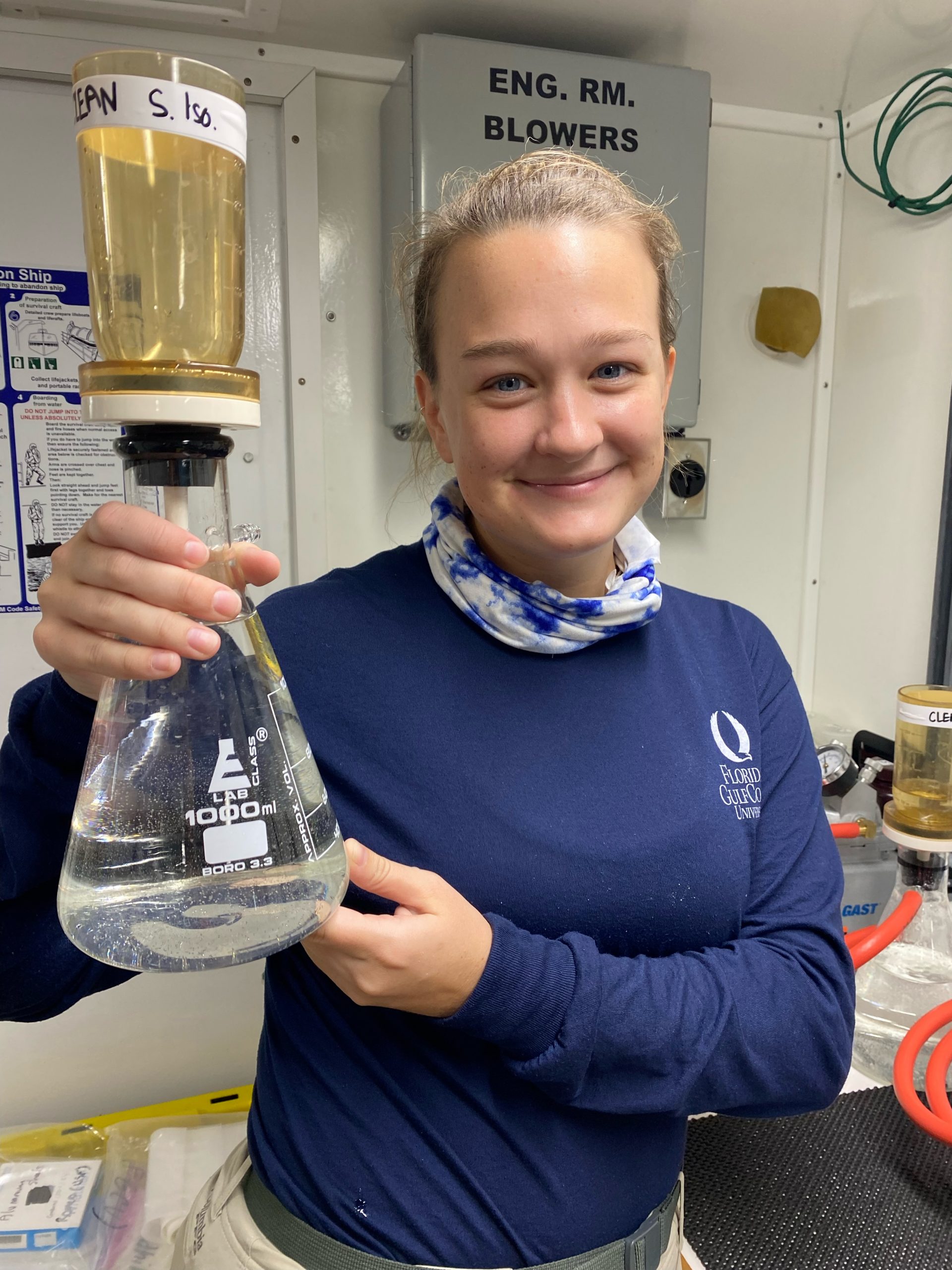 FIO is capitalizing on its partnerships across the state, and its members have stepped up to provide data, logistical support, equipment and scientific supplies to FGCU and SCCF. These efforts include multiple institutions within the FIO Consortium, including the University of South Florida's College of Marine Science, Florida Atlantic University's Harbor Branch Oceanographic Institute, University of Florida, Florida Agricultural and Mechanical University, Florida Fish & Wildlife Conservation's Fish and Wildlife Research Institute and the Florida Department of Environmental Protection.
"Like FIO's response to the Piney Point discharge event, the deployment of resources to the areas impacted by Ian shows the importance of our state-supported mission. We are focused on bringing the best science capabilities of Florida's universities and organizations to the forefront of these coastal ecosystems to better understand the storm's overall impact," said Dr. Monty Graham, director of FIO.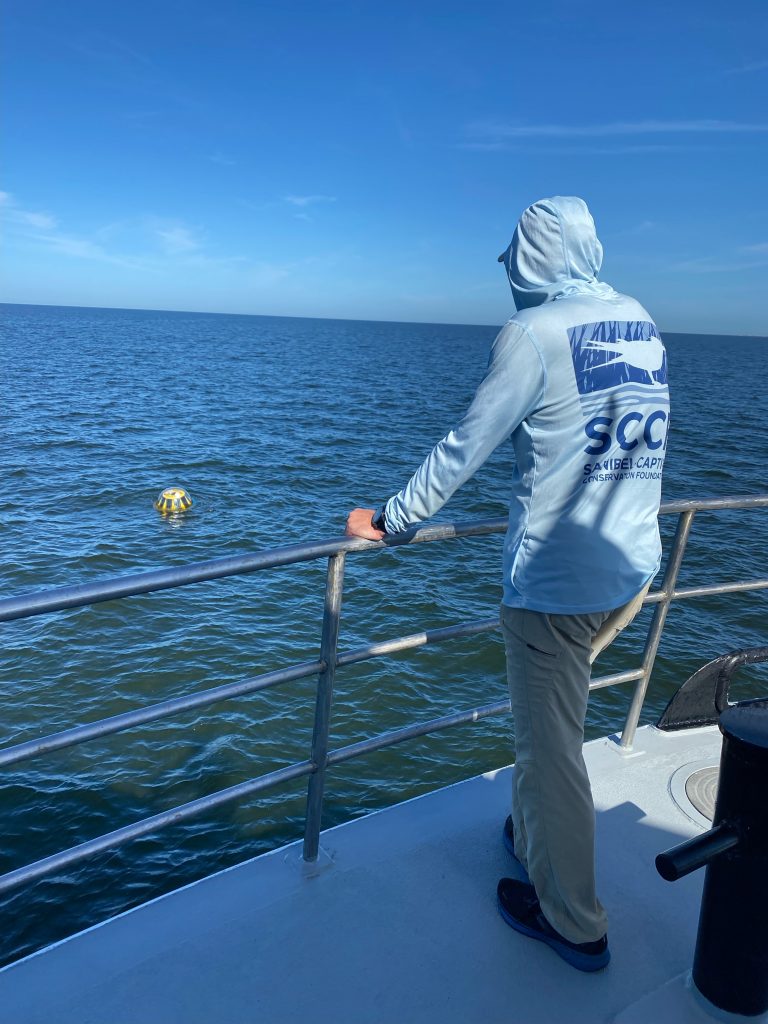 Scientists and researchers are concerned with the potential development of a red tide bloom in the wake of Hurricane Ian's floodwaters. Red tide blooms typically occur in Florida in the fall, and hurricanes are suspected to play a role in stimulating blooms. The heavy rainfall and flooding causes land-based nutrients to flow outward to coastal waters and blooms feed off those nutrients. The massive red tide bloom of 2018 was likely exacerbated by Hurricanes Irma and Maria. Data collection around Fort Myers will focus on water quality and the hurricane's impact on coastal geology. Scientists at FGCU and SCCF have long-term data to evaluate how local ecosystems and water quality were affected by the hurricane.
"The call from Dr. Graham was a lifeboat back to science from the devastation our community faces," said Dr. Eric Milbrandt, Director of the Marine Laboratory at SCCF. "This is a tremendous opportunity to work with our colleagues at sea and advance the science of the West Florida Shelf."
FIO's Keys Marine Laboratory (KML), located on Long Key, is also responding to emergency requests to support coral preservation and restoration. The high winds and storm surge experienced around the Florida Keys impacted multiple coral nurseries and samples have been transported to KML's state-of-the-art seawater system that was funded by Florida Fish and Wildlife Conservation. The new system is an accredited holding facility for thousands of coral fragments, which can be out-planted in Keys-based reef systems by collaborators Islamorada Conservation Restoration Education, the Florida Keys National Marine Sanctuary, and the Florida Aquarium Center for Conservation.
Hosted by USF, FIO is a statewide consortium that serves as Florida's nexus of oceanographic research and coastal stewardship and as an education and research resource for schools across the State University System.
About the Florida Institute of Oceanography
The Florida Institute of Oceanography consists of 32 members including state universities. Established by the Florida Board of Governors and hosted by the University of South Florida, FIO provides support and shares marine science resources between the state's universities and private, nonprofit marine research entities. FIO operates the R/V Weatherbird II, R/V Hogarth and the Keys Marine Laboratory in Layton, Florida.
About Florida Gulf Coast University
Located just south of Fort Myers and north of Naples on the Southwest Florida coast, Florida Gulf Coast University encompasses 800 acres on which academic buildings, residence halls and athletics facilities share space with wetlands, pinewoods and boardwalks in a natural setting. FGCU serves 16,000 students and offers more than 95 undergraduate and graduate degree programs. It emphasizes a university-wide commitment to sustainability and service-learning, with students having completed more than 4 million hours of service since the university opened in 1997. With six colleges, FGCU is committed to serving Southwest Florida with academic programs designed to meet the workforce demands of the five-county region. Growing interdisciplinary programs include The Water School and the Daveler & Kauanui School of Entrepreneurship. To learn more about FGCU, visit www.fgcu.edu.
About Sanibel-Captiva Conservation Foundation
Founded in 1967, Sanibel-Captiva Conservation Foundation's (SCCF) mission is to protect and care for Southwest Florida's coastal ecosystems through its focus on Water Quality Research, Policy and Advocacy, Sea Turtles and Shorebirds, Native Landscaping, Habitat and Wildlife Management, and Environmental Education.
About the University of South Florida
The University of South Florida, a high-impact global research university dedicated to student success, generates an annual economic impact of more than $6 billion. Over the past 10 years, no other public university in the country has risen faster in U.S. News and World Report's national university rankings than USF. Serving more than 50,000 students on campuses in Tampa, St. Petersburg and Sarasota-Manatee, USF is designated as a Preeminent State Research University by the Florida Board of Governors, placing it in the most elite category among the state's 12 public universities. USF has earned widespread national recognition for its success graduating under-represented minority and limited-income students at rates equal to or higher than white and higher income students. USF is a member of the American Athletic Conference. Learn more at www.usf.edu.