In case you missed it, the Florida Institute of Oceanography (FIO) organized a response cruise to support members impacted by Hurricane Ian and assess the conditions along the Southwest Florida coastline. In late October, researchers from The Water School at Florida Gulf Coast University (FGCU) and Sanibel-Captiva Conservation Foundation (SCCF) took part in a week-long research cruise aboard FIO's Research Vessel W.T. Hogarth to recover their ocean-based scientific assets and investigate post-hurricane impacts related to water quality conditions and marine habitats including reefs.
"We combined the strengths of FIO's experienced crew and captains with the insights of the senior scientists onboard and the precocious energy of FGCU's student researchers and divers. Together we were able to gather a huge amount of critical information on the ocean-side consequences of this life-changing storm, and we've gained a deeper understanding of the workings of the Gulf of Mexico that will help us protect her ecosystems and the people who depend on them," said Dr. James Douglass of FGCU's Water School.
During the cruise, researchers sampled nearly 50 sites as far as 12 miles offshore in the Gulf of Mexico. Each researcher on the team aboard the R/V Hogarth had a different focus. Environmental parameters such as chlorophyll A, contaminants and pollutants in the water, ocean acidification, and sediment extractions were key areas of focus. Through the team's sampling and observation, red tide blooms were discovered (and later confirmed in laboratories).
Karenia brevis is the dinoflagellate known as the leading cause of red tide blooms. High counts of this algae species were found offshore near Punta Gorda, Boca Grande, and Sanibel Island. Medium counts were found near North Captiva Island while low counts were found as far north as Manasota Beach and as far south offshore Wiggins Pass and Cayo Costa, which is where Hurricane Ian made landfall on September 28th.
The bloom is more widespread than FWC samples indicated and continues to extend south," said SCCF Marine Lab Director Eric Milbrandt, Ph.D. "We were able to characterize nearshore ocean conditions before the bloom which will help us better understand red tide blooms."
In the aftermath of Hurricane Ian, the underwater world appears to have been severely affected as well. Researchers who dove in the waters of southwest Florida during the cruise explained that artificial reefs 30 miles offshore were substantially impacted. Much of the seafloor, where there were once complete ecosystems, appeared to be covered by a thick layer of mud which caused hard corals to be wiped away. Many recreational fish species are back and abundant but the systems that supported those fish have been heavily impacted which has the potential to impact Florida's greater "Blue Economy" with changes in the fishing and tourism industries.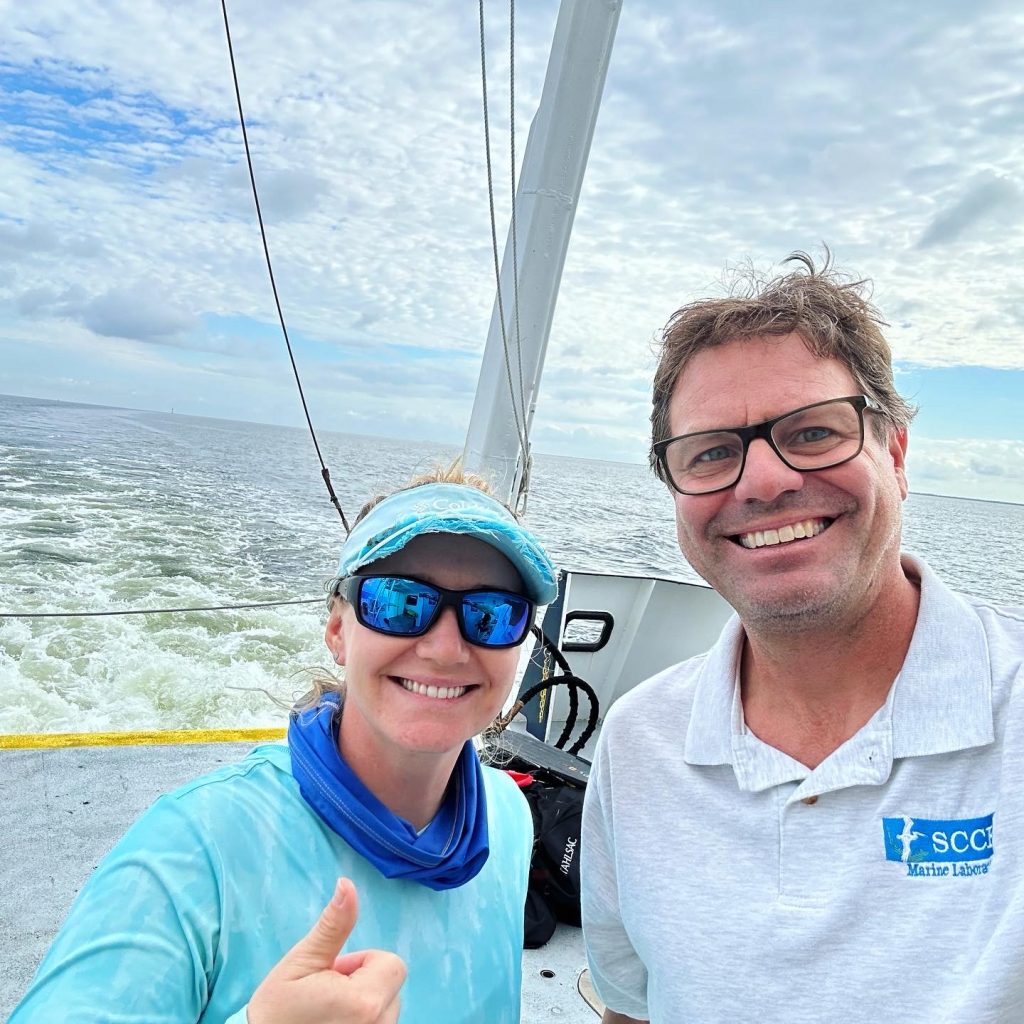 FIO's research vessel also located the SCCF River, Estuary, Coastal Observing Network's (RECON) wave buoy, which was knocked off during hurricane Ian after recording a 24-foot wave. According to the scientists onboard, the signal was lost for a few days before it started broadcasting again about a mile from where it originally was.
The post-Hurricane Ian cruise was a success in terms of the amount of research the team was able to complete while at sea, even though the findings were less than ideal. The researchers worked incredibly well together to complete dives, sample collection and equipment retrieval. "The overall experience was inspiring for several reasons. The group of scientists were able to collaborate on a level that is hard to find. Everyone worked together to stay organized and collect samples from nearly 50 sites in our greater area. The FIO crew was extremely professional as well as knowledgeable about the scientific collections that needed to be made," said FGCU researcher and Sanibel Captiva Islands Chamber of Commerce board chair, Calli Johnson.

"The collaboration between multiple academic institutions (FGCU, USF & FAU), research agencies (SCCF & FWRI), and the state consortium of FIO made all of this work possible to determine the initial impacts of Hurricane Ian on the west Florida shelf and coastline. We are hopeful to conduct future sampling efforts and research cruises with our collaborators to document and determine the future impacts and recovery of the west Florida shelf and coast," said FGCU researcher Adam Catasus.